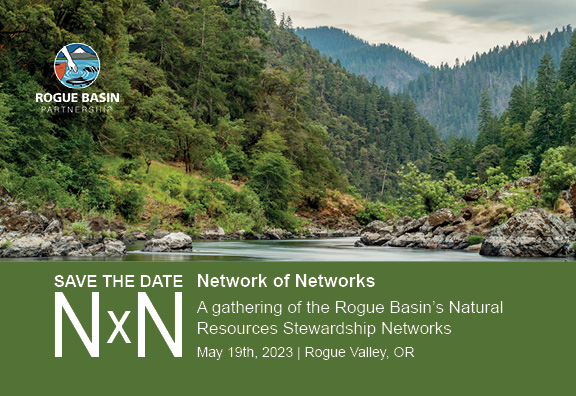 Network of Networks Gathering
The Rogue Basin Partnership's first annual Network of Networks (NxN) day-long gathering will be held May 19, 2023 in the heart of the Rogue Valley – the Medford Library in downtown Medford. Event will be 8AM to 2PM. 
RBP and its 23 member organizations strategically and collaboratively advance natural resources stewardship within the Rogue Basin. However, RBP is just one of at least 20 networks who share similar missions, and the list grows annually!  To date, there has been no easy way for members of these networks to both share what they're doing and keep up with how other partner organizations are engaging in the Basin. A new event, the Network of Networks (NxN), will provide a space to collaborate. 
NxN will bring together 75 representatives from these networks in one daylong gathering.  In a relaxed setting, participants will have a chance to learn and talk about what their colleagues in other networks have been doing, are doing, and hope to be doing to make the Rogue Basin a better place for all who depend upon its natural resources.
By the end of the day, participants will have a better understanding of who is doing what, where, how and when. New collaborative opportunities will appear. Duplication of efforts or other inefficiencies can be avoided. New relationships will be formed. Existing relationships will be strengthened. The pace and effectiveness of stewardship efforts will accelerate.
NxN is not an ordinary conference or workshop. There will be no talking heads or PowerPoint presentations. During the day, each network will have a chance to highlight its most recent successes; its most exciting ongoing projects; and its hopes for the near future. Built into the agenda are substantial opportunities to network with all of the organizations present.
Questions? 
Contact Sara Mosser, Executive Director, Rogue Basin Partnership
sara.mosser@roguepartners.org     54.708.0991                 roguebasinpartnership.org