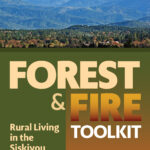 The purpose of the toolkit is to give resources to rural communities (Jackson, Josephine, Curry, Del Norte and Siskiyou counties) on fire preparedness and emergency planning, funding opportunities for home defense, insights on Indigenous fire management and how to engage in public and industry forest decision making. T
he Forest & Fire Toolkit is part of KS Wild's ongoing efforts to support community adaptation to wildfires and a changing climate. Many partner organizations contributed to the creation of the toolkit including: Lomakatsi Restoration Project, Fairbanks Forest Management, Firesmart Merlin, Smith River Collaborative, IVCDO, and A Greater Applegate.
Though we are not in the middle of fire season, all the information in the Toolkit is relevant now as it is full of resources on how to prepare properties for the upcoming wildfire season.