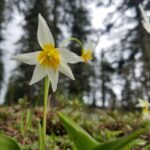 Photo and article by Tuula Rebhahn for the Rogue Native Plant Partnership
Fawn lilies (Erythronium genus) are a sure sign that spring has arrived in Pacific Northwest, and we have a couple of special local species that only occur here in the Klamath Siskiyous: Erythronium klamathenses and howellii.
On the shady forest floor, fawn lilies might not grow taller than your hiking boot, but coming across a large patch of them in late March to early May is a delightful surprise. You might need to get your chin to the earth to appreciate the delicate beauty of these downward-facing blossoms!
Erythronium grow from bulbs, a source of sugar that allows them to bloom earlier in the year than other wildflowers. Although they can produce additional bulbs to grow their numbers, the primary way in which they spread is by seed. So, it's extra important not to pick these lovely forest friends, so that they can come back with reinforcements next year!